When it comes to outdoor cooking, nothing beats the versatility and flavor of a charcoal grill. And if you're in the market for a high-quality charcoal grill, you've probably come across two popular options: the Big Green Egg and the Kamado Joe. But which one is right for you? In this blog post, we'll conduct a comparative analysis of these two grills to help you make an informed decision.
What is a Kamado Style Grill?
Kamado grills are popular in the US for smoking and grilling at home. They use charcoal or wood as a heat source and have adjustable vents to control airflow. Good design maintains cooking temperature over time. Highest quality grills last for decades and provide superior results. If you want to know more about Kamado grills you can check our another blog: What is a Kamado Grill - Benefits & Features and The Ultimate Kamado Grill FAQs - Everything You Need to Know.
1. Design and Construction
The Big Green Egg and the Kamado Joe are both crafted from top-notch ceramic, ensuring superb heat retention and durability. But the Kamado Joe takes the cake with its revolutionary Kontrol Tower top vent, guaranteeing precise temperature control without any fussing around.
2. Components
The Big Green Egg includes a thermometer, strong bodywork with a steel grid, and various accessories avaliable for different meat cuts. It comes in different sizes, from MiniMax to 2XL.

The top vent of Kamado Joe allows airflow and prevents rain from coming into the grill. The airlift hinge on top distinguishes it from other kamado grills, lightening the overall weight of the grill dome. It also has numerous stages to the cooking mechanism.
3. Temperature Range
When it comes to temperature range, Kamado Joe takes the cake. It can reach scorching temperatures, perfect for searing steaks or cooking pizzas at a sizzling heat. Meanwhile, the Big Green Egg is a master at keeping things low and slow for smoking meats.
4. Cooking Space
If you often cook for a large group of people, the Kamado Joe offers more cooking space than the Big Green Egg. Its Divide & Conquer cooking system allows you to cook different foods at different temperatures simultaneously, maximizing your grilling efficiency. The Kamado Joe has multiple racks and includes a tool to move them. The grilling grates on the Big Green Egg are all at the same height. You can adjust the meal's height by moving the grates and plates, but with less freedom. However you can also reach this aim on big green eggs by purchasing EGGspander.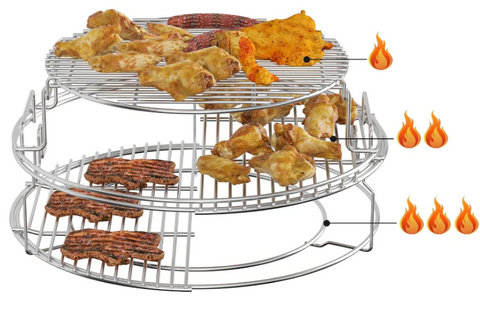 5. Air Vent
Vents on a kamado are responsible for internal heat control. The Kamado Joe has an aluminum upper vent with more more complex ventilation system. On the other hand, the BGE has a cast iron vent with standard simple system. If you want the big green egg vent provide the same performance as kamado joe, you will need the Daisy Wheel Chimney Cap below.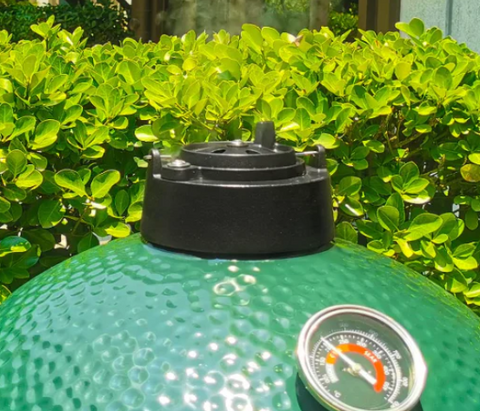 6. Lid
The Kamado Joe lid pops open slowly due to a hinge mechanism, which is simple and save effort. Although the BGE lid has springs for balance, it is still significantly heavier than the Kamado Joe hinge. Therefore, opening the Big Green Egg's lid requires more effort and caution when placing it back on the grill.
7. Ash Removal
A metal ash container is needed to easily remove ash from the BGE. When removing ash from the Kamado Joe, use the ash drawer. Cleaning out ash can be difficult, but a specific can for the Big Green Egg makes it easier. It's a quick way to clean the grill.
8. Accessories and Add-ons
Both the Big Green Egg and the Kamado Joe offer a wide range of accessories and add-ons to enhance your grilling experience. From pizza stones and rotisserie kits to cast iron grates and temperature controllers, you'll find everything you need to take your outdoor cooking to the next level. However, the Big Green Egg has been on the market for longer, so it has a more extensive selection of accessories available.
9. Price
When it comes to price, the Big Green Egg tends to be more expensive than the Kamado Joe. However, it's important to consider the overall value and longevity of the grill. Both grills are built to last and offer excellent performance, so the price difference may be worth it in the long run.
Conclusion
Ultimately, the choice between the Big Green Egg and the Kamado Joe comes down to personal preference and specific needs. If you prioritize precise temperature control and a wide range of cooking options, the Kamado Joe is the way to go. On the other hand, if you value tradition, durability, and a larger selection of accessories, the Big Green Egg is a solid choice. Whichever grill you choose, you can't go wrong with either of these top-of-the-line charcoal grills.
We have perfect fit replacement parts and accessories for both Big Green Egg and the Kamado Joe grills, you can search for them in our store. If you need any help, please feel free to reach us at Support@grillpartsreplacement.com.